Occasional Papers
Our Occasional Papers are available to purchase directly from the society subject to availability. Please request your copy.
Bromyard Road, A Study of Urban Development
By David A Attwood
£10.00
Paperback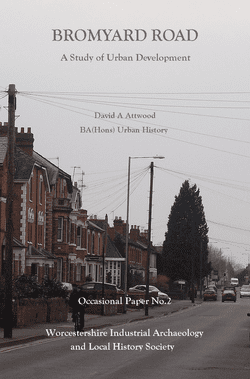 Written by our late member David Attwood, the subject covers the history and development of a piece of land known as Blakefield situated on Bromyard Road in St John's, Worcester. It charts the ownership from the Prior, Dean, and Chapter of Worcester Cathedral from the 15th century until the land was enfranchised in 1860. The paper covers the sale of Blakefield, various tenants, and the subsequent development of housing in the last quarter of the 19th century.
This part of Worcester's development and history uses documents from the Cathedral Library and Worcestershire Archives, examining the builders, solicitors, and owners, supplemented with illustrations from the Worcester City Planning Applications, which have been digitally photographed and made available for research.
Monochrome copies are available free of charge for WIA&LHS members or you can purchase the full-colour version.
The History of the Town Mill of Droitwich
By Paul Jones LRPS
£5.00
Paperback
Written by our guest author Paul Jones from Droitwich, who has undertaken a detailed study of the former Droitwich Town Mill and has generously allowed us to publish it as our first 'Occasional Paper'.
The article fills in a substantial gap in our knowledge of this lost industrial site and benefited from both documentary and site research, including the recent archaeological investigations carried out before redevelopment.
Books
The following books were authored by members of our society and are available to purchase from our publishing partner Aspect Design. They are our an independent publisher with delightful portfolio
More Tales From Worcester Royal Infirmary
By Miriam Harvey S.R.N.
£12.50
Paperback
ISBN: 9781908832856
Soon after publishing her first book, "Tales from Worcester Royal Infirmary" (see below), she realised that there were other tales to tell which should have been included, so she had to write a second book.
Miriam has included some tales of individuals, living eventful and interesting lives, in an era where the way of life was completely different. She interviewed past colleagues who had worked at the hospital and discovered more information about The Eye Hospital, South Bank and some of the almshouses.
Looking back over the centuries, she realised how much the various hospitals and almshouses have depended on the goodwill and boundless generosity of many ordinary people, as well as wealthy citizens.
These reminiscences form a part of the social history of Worcester and as such, Miriam felt it important to record this vanished way of life for future generations of nurses and other hospital staff.
Tales From Worcester Royal Infirmary
By Miriam Harvey S.R.N.
£11.90
Paperback
ISBN: 9781908832115
Miriam Harvey trained at Worcester Royal Infirmary between 1954 – 1957 and then spent the next forty years working in the operating theatre, specialising in emergency surgery.
This collection of stories and articles is mostly of 20th-century characters and personal memories, together with some of the more interesting tales of the beginnings of the old infirmary and the major events concerning the Castle Street hospital.
The former Worcester Royal Infirmary building is now part of the University of Worcester. WIA&LHS visited the building immediately after its closure as a hospital and upon the completion of its restoration.